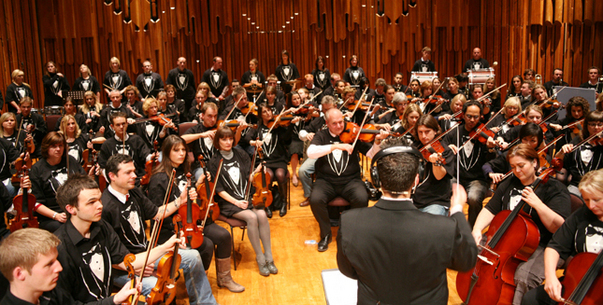 Team Building orchestrate
They said it couldn't be done. They said it wasn't possible. They said we were crazy. But we have done it and proved it is possible to turn a group of people with no musical ability into a real symphony orchestra in the space of 90 minutes. This is Orchestrate! — a sensational teambuilding experience that will transform your people and bring them together as never before.

A symphony orchestra is probably one of the best examples of a team working as one. Emotionally and creatively the players have to be tuned-in to each other and people doing different tasks have to work together towards a common goal. It is an experience that up till now has been only available to the dedicated musician.

Our budding protégés will learn to play real instruments including strings, woodwind, brass and percussion. Once the instruments have been chosen, the delegates will work in separate sections under the guidance of expert musicians. Once proficient they will then come together as one mighty symphony orchestra under the baton of the conductor to play a specially-written, fiveminute- long piece of music. The effect is electrifying.

Orchestrate! is, without doubt, one of our most demanding and challenging Team Building events. It will stretch your people to their full potential and beyond their perceived limitations. It will demand hard work, total concentration and real teamwork. But, as hard as this challenge is, the reward is an experience that will never be forgotten.

They say music has the power to move people. Orchestrate! can move your team to achieve anything.